The Conception of the Righteous Anna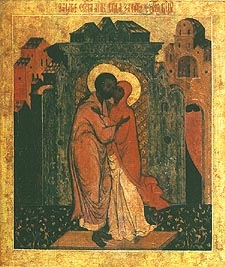 According to the ancient tradition of the Church, since Saint Anna, the Ancestor of God, was barren, she and her husband Joachim remained without children until old age. Then, sorrowing over their childlessness, they besought God with a promise that, if he were to grant them the fruit of the womb, they would offer their offspring to him as a gift. And God, hearkening to their supplication, informed them through an Angel concerning the birth of the Virgin Mary. And thus, through God's promise, Anna conceived according to the laws of nature, and was deemed worthy to become the mother of the Mother of our Lord.
-------------------------------------------------------------------------------------------------------------
The following readings below are for Sunday, December 9, 2018:
Today's Epistle reading [Galatians 4.22-31]:
For it is written that Abraham had two sons, one by a slave and one by a free woman. But the son of the slave was born according to the flesh, the son of the free woman through promise. Now this is an allegory: these women are two covenants. One is from Mount Sinai, bearing children for slavery; she is Hagar. Now Hagar is Mount Sinai in Arabia; she corresponds to the present Jerusalem, for she is in slavery with her children. But the Jerusalem above is free, and she is our mother. For it is written,
"Rejoice, O barren one that dost not bear;
break forth and shout, thou who are not in travail;
for the desolate hath more children than she who hath a husband."
Now we, brethren, like Isaac, are children of promise. But as at that time he who was born according to the flesh persecuted him who was born according to the Spirit, so it is now. But what does the scripture say? "Cast out the slave and her son; for the son of the slave shall not inherit with the son of the free woman." So, brethren, we are not children of the slave but of the free woman.
-------------------------------------------------------------------------------------------------
The Gospel reading for today [Luke 8.16-21]:
"No one after lighting a lamp covers it with a vessel, or puts it under a bed, but puts it on a stand, that those who enter may see the light. For nothing is hid that shall not be made manifest, nor anything secret that shall not be known and come to light. Take heed then how you hear; for to him who has will more be given, and from him who has not, even what he thinks that he has will be taken away."
Then his mother and his brothers came to him, but they could not reach him for the crowd. And he was told, "Your mother and your brothers are standing outside, desiring to see you." But he said to them, "My mother and my brothers are those who hear the word of God and do it."